Let's Work Some Magic
Whether you are looking for a one-to-one coach, a group course or maybe need some structured reading to help you work some magic into your life, then I can help.
My work is done remotely by Zoom (where you get to see my dogs wandering around in the background usually), by telephone or by email.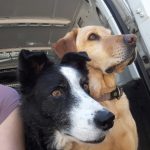 Coaching isn't counselling, well, my coaching isn't.  We don't spend hours dredging over the past, no ma'am (or sir).  We look at the here and now, positively and without judgement.  Oh, and we plan for an amazing future too if that is what you want to do (of course you do!).
I'm going to be honest with you, I've found that when I am mentoring (coaching if you prefer) someone the best results come from working together over a few months rather than a one-off session here and there.  I'm not talking about a session every week, although you are welcome to do so, more like a fortnightly session with some homework in between.  It keeps you motivated, keeps the momentum going for long enough that you begin to see positive results and it also means I can pick you up and dust you off if you have a stumble along the way.
If you would like to know more then please drop me an email sue@suegw.co.uk and we can arrange to have an informal chat.
Speak soon!
Sue x